Reading Time:
8
minutes
Have you ever cooked with cannabis? It is really fun to do and the buzz is great. And if you know how to combine the right ingredients, it is also a culinary delight. So what about a fancy dinner party with your cannabis-friendly friends? We've listed a couple of delicious but simple recipes with cannabis. Everyone who participates in the dinner party can take something with them. That way you don't have to do everything yourself and all your guests feel involved. It is also a nice idea to cook together. And when all dishes are ready you gather around the table to enjoy.
Cooking with cannabis is gaining a lot in popularity. Various TV programs are dedicated to infusing food with THC. This goes way beyond baking a spacecake or pot brownie. The most amazing culinary dishes leave the kitchen, all in which cannabis plays a role.
But don't freak out. This article isn't about fancy chique recipes. Instead, we have compiled a list of easy-to-make cannabis dishes for you. So no haute cuisine-like dishes containing all kinds of ingredients you never heard of. Nope, we're keeping things easy. So relax and get inspired by these simple recipes with cannabis.
Recipes with cannabis – keep it simple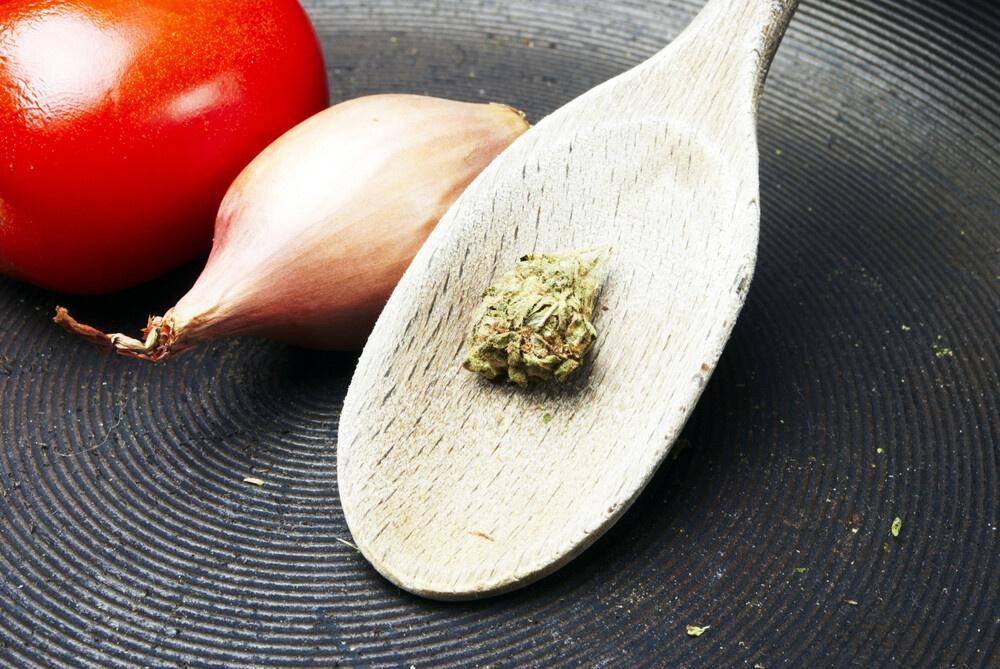 It's not that we don't like cooking. Just like sports or other hobbies, cooking can be very fun and stress-relieving. But  sometimes you just don't feel like spending hours and hours in the kitchen, right? But you do enjoy creating something simple yourself. So no recipes which require all kinds of hard to get and exclusive ingredients. Big chance you have all the ingredients at home in stock for these simple recipes with cannabis.
Anyway, further down this article you will find a number of recipes for making delicious dishes. All of them contain cannabis and deliver the consumer an uplifting buzz. Whether you fancy an in-between snack, lunch dish, or you feel like having breakfast with cannabis. Read on, because we have collected fun, tasty and easy-to-make cannabis recipes for you. And by the way … being easy to make does not mean that it is less tasty.
Simple recipes with cannabis – where to start?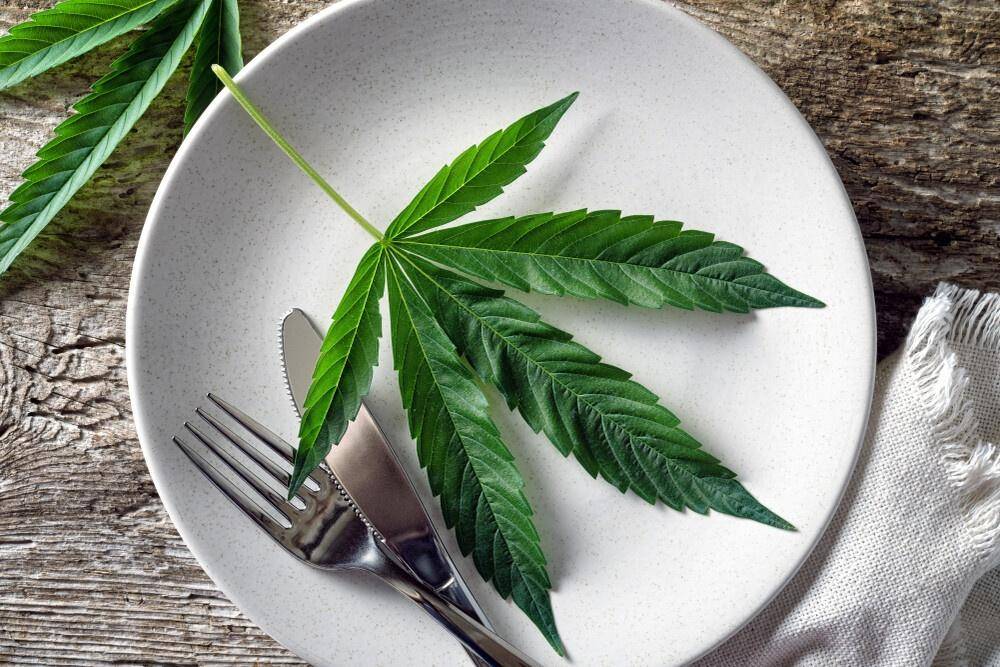 What is great about cooking with cannabis? First of all, you can put all of your creativity in your creations. And furthermore, the effects also boost your creativity! It is just great to combine different ingredients with the high of the THC. A dinner or snack with a buzz, who doesn't want that? So collect your cooking gear and get to work! Scroll down for a bunch of delicious cannabis dishes you can easily prepare in your own home kitchen. And yes, among these simple recipes with cannabis is also a delicious chocolate brownie – we couldn't leave that out! 
One more thing before we really get started. It is not like you have to be a real kitchen prince or princess to make these cannabis infused dishes to a success. You really don't have to have years of cooking experience. Sometimes this is what is holding people back to start cooking with cannabis. And that's a shame, because cannacooking is an awesome experience. We will guide you through it step by step. Hey, every Michelin star chef once started! So this can be the first day of the rest of your cannabis-cooking life.  
Easy ways to make cannabis edibles
These simple weed-recipes allow you to conquer the kitchen in no time. Your guests will be surprised and amazed! Oh wait. We pitched the idea to cook together with friends and make it a fun, social, culinary afternoon / evening, right? Well, let's keep it simple and leave the three course dinners for another time.
If you cook with the herb, you can add it in various ways. In addition to common cooking, the technology in which you can add THC to your food is also part of the entire cooking process. But first things first.
Haze is a perfect cannabis strain for cooking
Searching for a cannabis strain that is perfect for cooking? Then choose Haze. Haze has a high THC content. The buds are small, but they are very intense. Haze grow out to a bushy plant with long stems and the buds are tinted gold. Buy your high quality Haze seeds straight from Amsterdam with guaranteed and discrete delivery.
How to make cannabis butter aka cannabutter?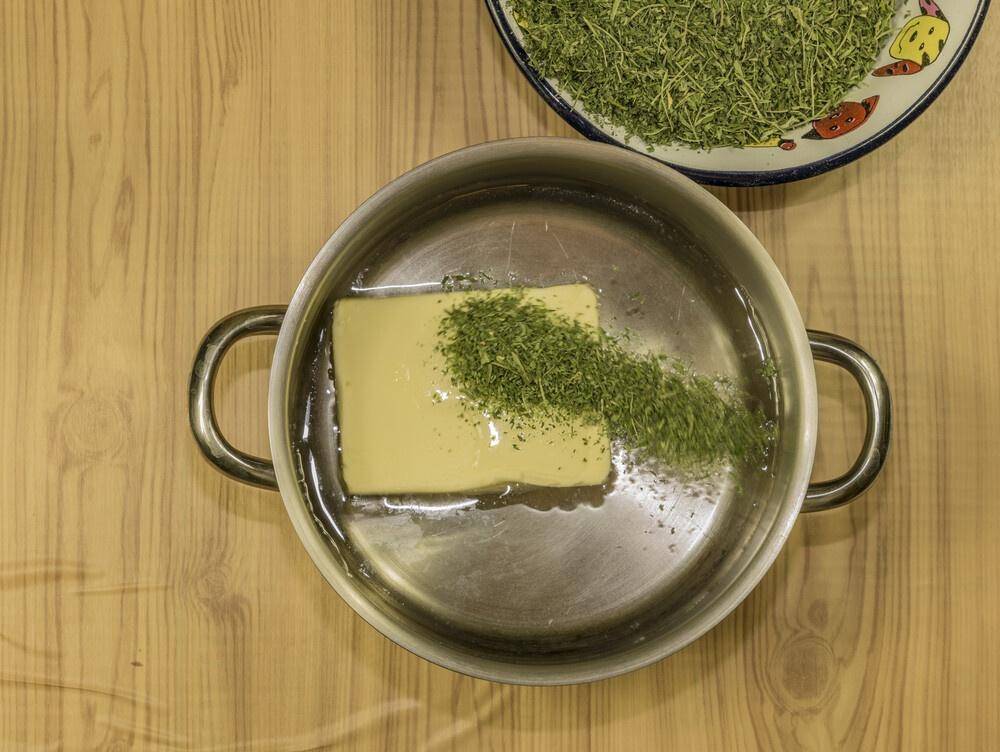 First of all, it is good to know how to prepare cannabis butter. You won't literally eat cannabis butter. But you add it as an ingredient to other dishes. This makes cannabis butter a THC-containing ingredient which you add to all kinds of dishes to create a blissful buzz.
So, how do you cook cannabis butter, or as insider chefs call it affectionately: cannabutter. It is really very easy. Anyone can make THC-infused cannabutter. Even the most clumsy cook.
First grind a small amount of marijuana. Grind the cannabis tops as small and fine as possible. Toss it in a saucepan, together with 300 grams of butter. And add 800 milliliters of water. Heat it to just below boiling point. Now let it simmer for a few hours over a small fire. How long? At least for 3 hours. Yes, your patience is put to the test. A layer of oil will slowly form and float on the surface. Has too much water evaporated? Then add a little more, bit by bit. But not too much.
It is best to use a saucepan with a lid. And it is very useful if the lid is made of glass so that you can keep an eye on how your butter is doing. Important, if you do not want to injure yourself with boiling hot oil: do not overload your pan. Because this way the hot oil may splash everywhere, and this may cause dangerous situations. Besides, oil stains make such a mess on your kitchen tiles – do you need to clean up afterwards! So be gentle with the amount you make.
As soon as the layer of fat floats on top and most of the water has evaporated, let it cool. Sieve and remove the remaining plant material. Put the bowl in the fridge overnight and voila: your own, homemade cannabutter is ready steady. Easy peasy, right? Another tip: because there is still a layer of water at the bottom of the bowl, be careful when you scoop out the butter. Do not drop the butter into the water.
Cannabis tea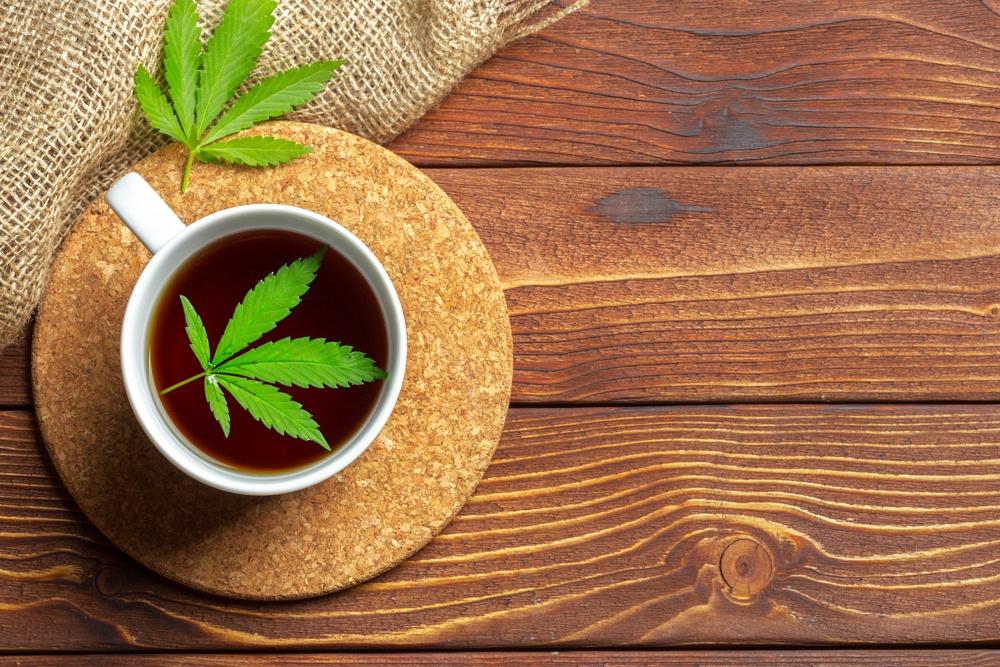 This recipe is not a recipe you need to cook for. Because it's tea. And to make tea you basically only need to boil water. But how do you prepare cannabis tea? That is easy. Especially because you now have your own homemade cannabis butter in stock. Boil water and make tea as usual. Nothing crazy about it. But now grab the cannabutter and scoop a spoon (teaspoon) of the butter into the hot tea. Stir until the butter is completely dissolved and … tea time!. Do you like it sweet? Just add a spoon of honey. Serve your tea in nice cups and enjoy!
Homemade weed ice cream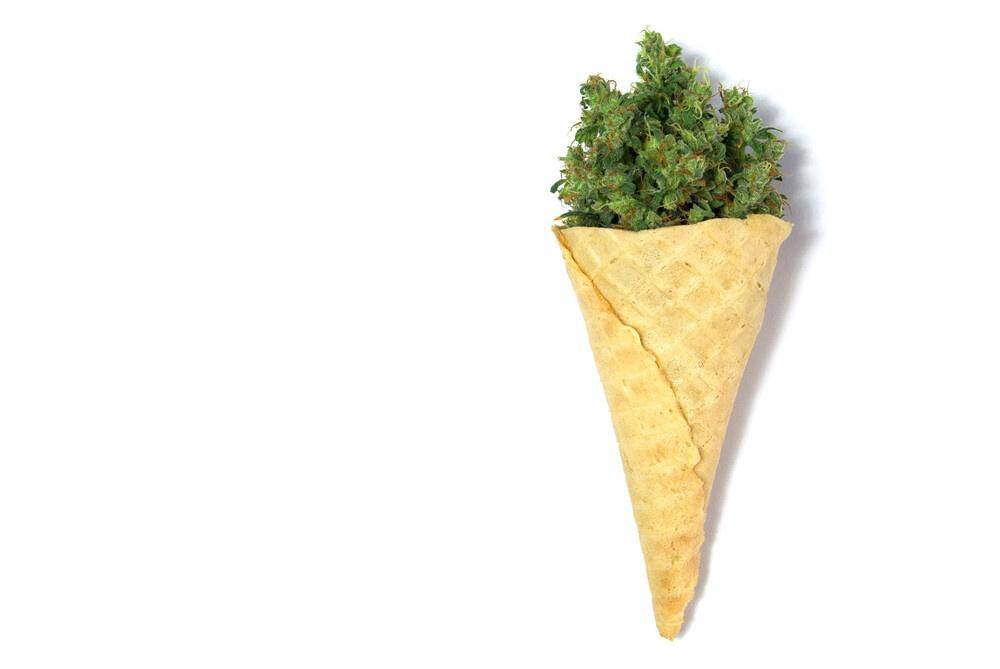 Why not skip dinner and go straight for desert? Certainly if it is weed ice, many of your guests will agree without doubt. But how do you make this unique after dinner treat? Take your saucepan and add 600ml of whipped cream. You can also replace half of the cream for mascarpone. Put the pan on medium heat and let simmer. Grab another saucepan (sorry, for the many dishes!) And melt 75 grams of your delicious cannabutter (there it is again!) together with 100 grams of sugar. Now it comes to your personal taste: blend fruit of your preference, such as strawberries, mango or pineapple. Combine all ingredients and stir frimley. Take a large bowl and pour everything into it. Now put it in the freezer. The next day your delicious weed ice cream is ready.
Super fast cannabis muffin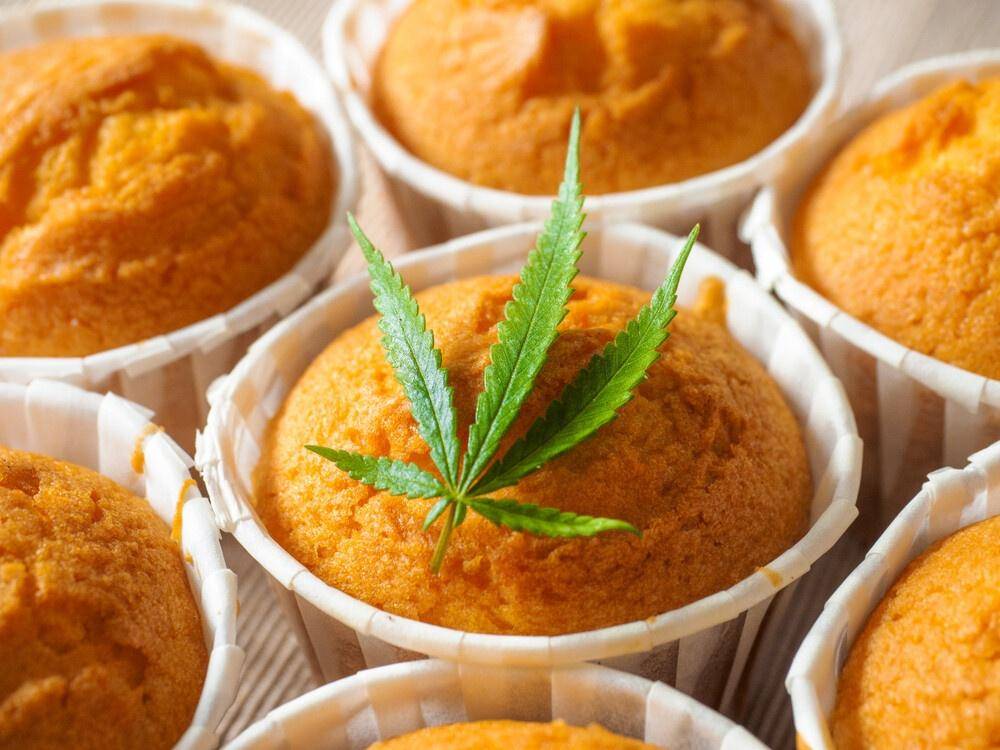 Marijuana brownies are a real classic. You can bake them in the oven, but there is another way … the super fast way. It is therefore not a brownie in the traditional way, but it is more like a muffin. Also tasty. And ready in a sigh. For this you only need a microwave and you have your weed muffins ready in a matter of seconds. So let's get to it!
These muffins are with chocolate! What ingredients and equipment do you need? To start with, a large cup, or even better a mug. This must fit in the microwave. Add in succession: 5 tablespoons flour, two and a half tablespoons cocoa powder, an egg and pieces of dark chocolate. Stir everything well with a spoon. Now it's time to get crazy and add all kinds of tasty add-ons. How about marshmallows or vanilla sugar? Anyway, we wander off. Now add the special ingredient … indeed your homemade cannabis butter. A teaspoon of your magical butter does the trick. Place your mug in the middle of the microwave and cook for about 2 minutes at 700W. "Plinggg" Your microwave muffin is ready!
A classic: the cannabis brownie (oven-baked)
Pot brownies are the most popular marijuana edibles ever. And we don't blame all those enthusiasts. Especially if they are fudgy, they are just fingerlicking good. You can do the whole baking part and mixing ingredients yourself, the authentic way, but you can also take a ready to make brownie mix and work from there. Check beforehand if oil or butter needs to be added. Now all you have to do is score a few grams of top shelf marijuana and you are good to go.
How does it work? First step is to infuse the oil with THC from your weed. Is that difficult? No not at all. Check on pack baking instructions to see how much oil (or butter) you need to add to the mix. And put that amount in a pan. Add the cannabis. Don't forget to grind! Grind it as fine as you can. Let the cannabis simmer in the oil for an hour or so. Stir occasionally. Now let the pan cool down and scoop out all the plant material with a strainer. Ready! Good job! You now have cannabis oil that you use as an ingredient to add to the brownie mix. Some people do not sift all the plant material from the mix, but leave some remains. Extra veggies!
That's it for now. Awesome, but simple recipes with cannabis. Easily to make at home, all by yourself or together with friends. For this, producing cannabutter is an important first step. Cannabutter is kind of like a boomerang that keeps coming back in every recipe. You can add it to almost everything. So, if you store a quantity of cannabutter in your fridge, you can add a buzz to all kinds of meals whenever you want.
Have you made one of the edibles above? Share your experiences in the comments below!